Discover more from Laetitia@Work
The future of work, with a feminist perspective
Over 3,000 subscribers
The end of linear work lives: crossings & transitions
Laetitia@Work #22
Hi everyone,
Today I'd like to write about crossings and transitions in professional lives (and lives in general). A few days ago I was asked to ponder the next "crossings" we'll face as a society and speak about the personal "crossings" I had made in my life. The current pandemic can be seen as a "crossing" (although we don't really know where/when the other side is). Climate change could come with multiple crossings. As far as personal lives are concerned we face multiple ones: depression, accidents, bereavement, job losses, but also more positive ones like parenthood. 
Talking about crossings, I realised mine had mostly been painful (changing jobs, for example). I also realised that I generally prefer to think about "transitions" rather than "crossings". There's a difference. Crossings are moments when possibilities cross and you have to make a choice and/or get across a difficult, dangerous phase. By contrast, transitions are a longer process or period of change from one condition to another that involve preparation. Transitions involve you changing to adapt to a different condition. They don't occur unexpectedly. And they can be supported by institutions (social protection, education, firm).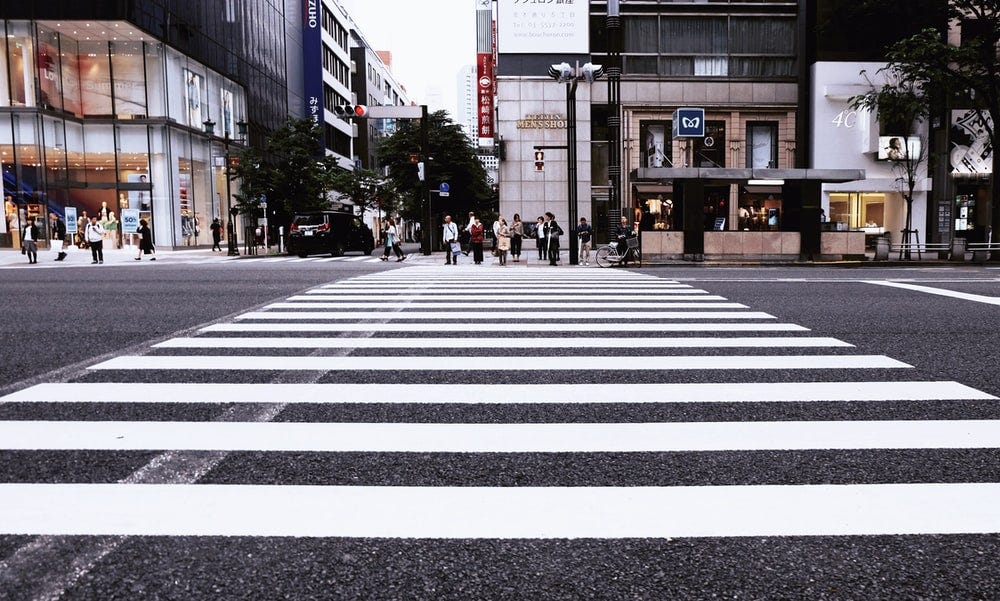 By and large we still see radical life changes as accidents. We see them as extraordinary events for which there's no planning possible. Most pension systems (like the French one) see career changes as exceptions, and linear work lives as the norm. In most higher education systems lifelong education is actually anecdotal (what's the proportion of students over 40 in universities?). What would it take for all crossings to become transitions? It would take individual preparation and institutional support. Read on 👇

Linear is dead
Last year I read this amazing book that I mention all the time now. Lynda Gratton and Andrew Scott's The 100-Year Life: Living and Working in an Age of Longevity really is a must-read. The authors explain that we've inherited this model of the "three-stage life" (education, work and retirement) from the 20th century. It shaped all of our institutions: education, legislation, taxation, social protection, and even human resources. All these institutions view work lives as linear: the older you are, the more experienced you're supposed to be. You're supposed to earn more as you grow older. 
For each age, there's a stage. Age cohorts are viewed as separate, homogeneous entities that only mingle in specific contexts (family life, and education because the old are supposed to teach the young). The young are expected to be agile and malleable whereas the old are believed to be wiser but less agile. Whether there's ageism or not, there are a lot of stereotypes in that vision. If your age doesn't fit your stage (or the other way around), it will take some form of "crossing", it will be a transgression.
As Gratton and Scott explain, this linear view of life is increasingly incompatible with our demography. We live longer than previous generations, much longer. Stretching the second stage of our lives without changing anything else is going to be unsustainable, if only because it gets harder and harder to find a job after a certain age. 
The three-stage model of life is dead. This is because the only way to make the three-stage life work financially is to create a very long second stage of working, but (…) the likely impact on non-financial assets such as productivity or vitality is ultimately undesirable.
There are essentially 5 reasons why the three-stage life is a thing of the past:
Preparing for a life of transitions
It seems pretty clear that the three-stage life will be replaced by a multi-stage life where age doesn't necessarily fit a matching stage. Some people may start a second career at 40 and be managed by someone younger who's in their first career. In a multi-stage life you may see someone younger be more "experienced" professionally than their older colleague. You may also see older workers whose brain plasticity is intact and who have remained agile. 
It would help to see career changes as transitions rather than crossings. As individuals, it means we need to prepare for them. For our institutions, it means a lot of things will have to change so people can be supported in these changes. As I wrote a few years ago in an article titled "In-Between Waves":
There is a growing mismatch between our institutions and the timing of our work lives. Fewer people are covered by the social insurance institutions created for the post-war boom years. Our education systems aren't meant for continuous learning. Our pension systems are increasingly failing. Unemployment insurance is meant for insiders only. Non-salaried freelance workers are in the process of inventing their own institutions, but by and large they're still not seen as a new norm by government, public services and society at large. That makes it harder for them to get access to decent housing for example.
Many institutional changes can be imagined:
These are just a few examples of institutional changes. There are many more. "From the cradle to the grave" means lots of different things in a non-linear model. Also institutions include companies, and companies are not very good (yet) at thinking in a non-linear way. Ageism is rampant among recruiters.
Obviously turning crossings into transitions also involves personal preparation and a growth mindset. I did address this issue (or a part of it) in a previous newsletter titled "Navigating across cultures and getting ready for the future of work":
If the life of our children (and ours) is likely to be composed of more transitions, then we'll need to develop our transformational assets, i.e our ability to change and shift several times over the course of our lives. I discovered the concept of "transformational assets" in Lynda Gratton and Andrew Scott's remarkable book The 100-Year Life: Living and Working in an Age of Longevity. And I was so convinced by the concept that I've been using it in talks and articles ever since.
Also you'll have to know yourself better, understand what you're capable of, and mostly what you want and don't want in life. Acquiring self-knowledge will be more critical than ever. A healthy dose of empathy may also come in handy. As Gratton and Scott write in their book, "Issues of identity, choice and risk become central to questions of navigating a long life." "So you will need to think about your identity in a different way from those who came before."

🌳 I'm still in Normandy this month but I've actually moved and been to different places for the first time since the beginning of the pandemic 😷
I'm still developing the media I launched with Nicolas, Nouveau départ (in French). Subscribe here (for €15/month or €150/year) to listen to our podcasts. We've talked about how to prepare for the great fragmentation, demography and economic growth, SMBs… and much more.
For Welcome to the Jungle, I've written several new pieces (all in French this week):
Also I did another webinar with Jérémy Clédat to promote our new book 100 idées innovantes pour recruter des talents et les faire grandir: you can watch the replay here. And you can watch the webinar I did with The RSA (in English) with Carl Frey on YouTube: Bridges to the Future 🎙️

Miscellaneous
That's all for today. I'll be back in your mailbox in two weeks! 💌